CFAO Kenya invests in OFGEN Limited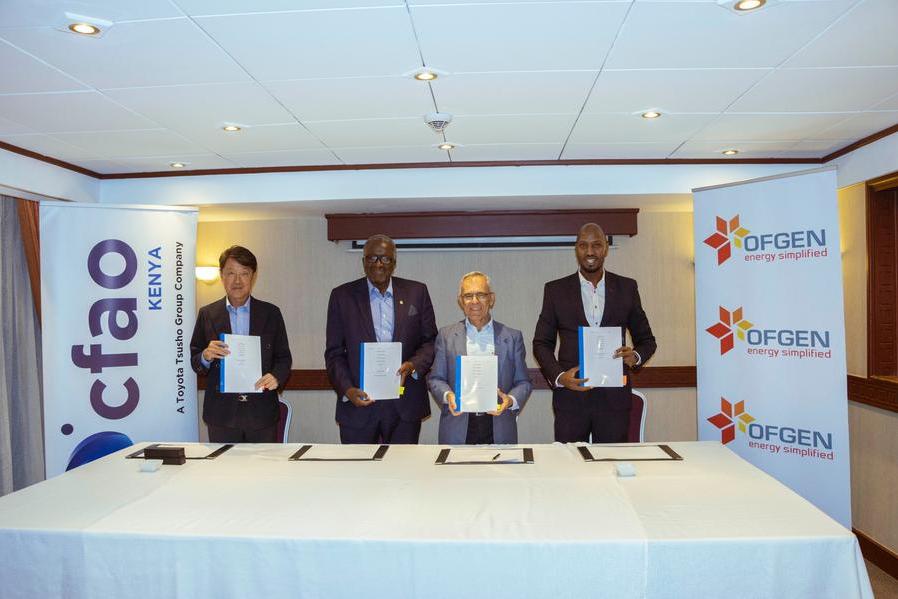 Nairobi, Kenya – CFAO Kenya Limited, a subsidiary of the CFAO (Corporation for Africa and Overseas) group, is investing in OFGEN Limited, a leader in solar PV installation for commercial and industrial use in East Africa.
CFAO Kenya has been working with OFGEN Limited since 2018 to solarize CFAO Group premises in Kenya and Uganda. The CFAO Group will continue to rely on OFGEN's expertise in commercial solar photovoltaic installation to solarize all of its commercial premises in the East African region, in line with the carbon neutral program. of the Group and to the commitment to reduce its CO2 emissions by 50% by 2030. With this investment, the ambition of the CFAO group is also to contribute to promoting initiatives aimed at developing the use of renewable energies in Africa .
Amb. Dennis Awori, President and Country Delegate of CFAO Kenya, said OFGEN's impressive footprint and pipeline of projects make it an important addition to the group's renewable energy portfolio and that this investment will help CFAO Group accelerate its market penetration of commercial and industrial renewable energies.
"Our company will not stop creating and imparting a better global environment to the children of the future in the countries where we operate by aligning our operations and activities with the global sustainability agenda. With six facilities already operational in Kenya and in Uganda, our roadmap is to equip all remaining CFAO premises in more than 10 countries in the Eastern and Southern Africa region with photovoltaic panels to reduce carbon emissions from our business activities in the region by more than 1,000 tonnes per year by 2024" Added Amb Awori.
"CFAO's investment aligns with OFGEN's short- and long-term goals of creating sustainable development through the delivery of efficient and innovative renewable energy solutions to the region on an exciting new scale. To this end, OFGEN intends to use CFAO Group's vast presence on the continent to expand into other African markets." Said Mr. Jibril Omar, Founder and CEO of OFGEN Limited.
Kenya's industrial policy aims for inclusive growth, job creation and poverty reduction through the promotion of a globally competitive manufacturing sector. Despite being a world leader in the adoption of renewable sources for electricity generation, Kenya experiences huge losses in electricity transmission and distribution. This has contributed to the high cost of energy which undermines Kenya's ability to compete for manufacturing jobs, especially in East Africa.
Given this challenge, OFGEN's promotion of on-site energy generation and consumption through industrial solar PV installations aims to enhance the competitiveness of Kenya's manufacturing sector by reducing energy costs.
The company has developed innovative solutions including smart financing models and monitoring systems that can support large-scale deployment of industrial solar PV solutions in Kenya.
-Ends-
About OFGEN
OFGEN, established in 2014, is one of the leading turnkey solar energy companies that develops, designs, procures, builds, operates and maintains photovoltaic systems in East Africa for the commercial and industrial sector.
Recently, the company added funded solutions to its offering to customers.
To date, the company has built and financed a total of over 30 on-grid and off-grid solar power plants with over 10 MWp solar capacity and 9.3 MWh of battery power in the markets of Kenya, Uganda, Rwanda and South Sudan. The company has completed projects for companies such as Williamson Tea Estate, GlaxoSmithKline, Serena Group of Hotels, Toyota and British American Tobacco.
About CFAO Kenya Ltd.
CFAO Kenya Limited is a subsidiary of the CFAO group. The CFAO group, Corporation for Africa & Overseas, contributes to the growth and industrialization of Africa while addressing the emerging middle class of the continent. With revenue of over €6.9 billion, access to 47 of the continent's 54 countries and nearly 21,000 employees, CFAO is a key player in mobility, health, consumption, infrastructure and energy. In addition to being present in Kenya in 3 of the 4 areas of activity, the Group, through CFAO Kenya Limited, is a key player in renewable energy and infrastructure projects, as well as in investment and scaling up of the various start-ups in the mobility sector in the country. In addition, the company is also involved in agricultural technology, providing agricultural mechanization solutions to farmers in Kenya.
Press contact: James Odero | Managing Director – Utilities Department, CFAO Kenya Ltd [email protected]