Climate Finance Lab calls for innovative ideas on climate finance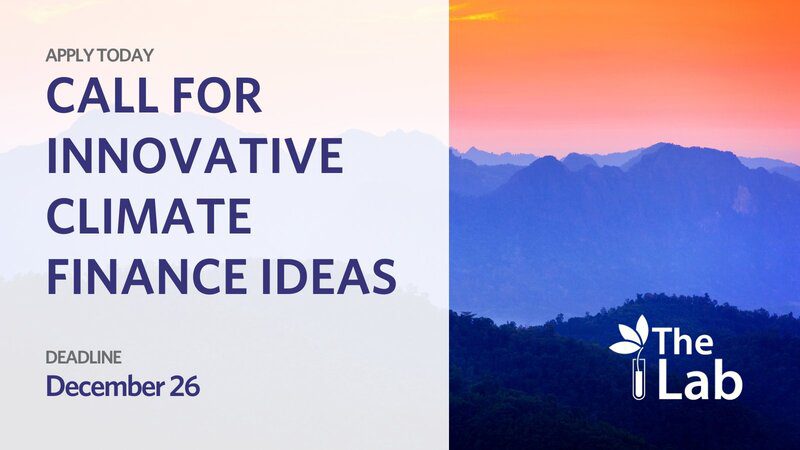 Application deadline: December 26, 2022
The Lab seeks innovative financing solutions that can unlock investments to address some of the toughest climate and sustainability challenges and investment opportunities for a net zero economy. The proposed sustainable finance vehicles are expected to deliver returns to private investors, create jobs and other local economic benefits, support biodiversity, improve climate resilience and reduce emissions.
In 2023, the Lab will develop six climate finance ideas from two thematic streams and three regional programs, plus one open idea.
Climate adaptation
India
Eastern and Southern Africa
Gender equality
Brazil
Open idea
Successful ideas are selected by lab members and other experts based on the following criteria.
Actionable
identifies (1) the type of entity(ies) that could implement it, (2) the path to implementation, including timeline, activities and milestones, and (3) possible challenges to implementation and related management strategies.
Innovative
Demonstrates ability to overcome, directly or indirectly, barriers to private climate finance that (1) have not yet been addressed or (2) which will be processed more efficiently compared to other market instruments.
Catalytic
Demonstrates potential for (1) mobilize private climate capital within a large market, (2) be extended or reproduced in other contexts and, (3) have socio-economic, development and environmental impacts.
Financially viable
identifies (1) a strategy to phase out public financial support, thereby ensuring market viability and (2) possible challenges to achieve the targeted objectives and related management strategies.
If your idea is selected by the members of the lab, you will work with a team of analysts, key stakeholders and experts to:
✓ Develop or refine the mechanics of your idea
✓ Study comparable instruments, ensuring the final instrument is innovative and impactful
✓ Develop robust financial modeling
✓ Assess and document potential social and environmental impacts
✓ Map risks and risk mitigation strategies
✓ Develop a detailed implementation plan
✓ Produce promotional content
✓ Pitch your idea to donors and investors
✓ Potentially receive lab approval
For more information:
Visit the Official Webpage of the Climate Finance Lab Call for Innovative Ideas