CS Adan Mohamed resigns from Cabinet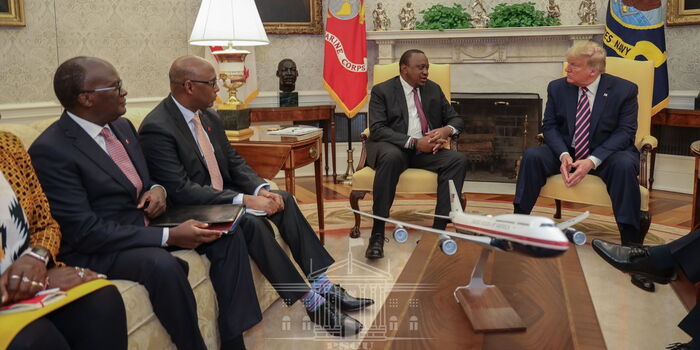 On Monday February 8, the East African Community (EAC) Cabinet Secretary, Adan Mohamed, left office to focus on the upcoming August 9 general elections.
In a public statement, Mohamed noted that he was eyeing the Mandera governor's seat and wanted to spend time launching his campaigns.
He thanked the Head of State for granting him this opportunity and listed some of the achievements he made in the ministries he held.
"I take this opportunity to thank HE the President for the opportunity to serve the great people of Kenya under his leadership for the past 9 years as Cabinet Secretary.
CS, Ministry of EAC and Regional Development, Adan Mohamed.
"During this period, we have achieved significant milestones in the Ministries of Industry and Trade, Agriculture and finally in the East African Community and Regional Development. conclusion of key commercial agreements," he explained.
The former banker was one of four CSs who have served in President Kenyatta's cabinet since he took office in 2013. Others who have served since the first cabinet are Fred Matiang'i (Interior), Raychelle Omamo (Foreign Affairs), James Macharia (Health), and Amina Mohamed (Sports).
Some of the trade agreements spearheaded by Adan include the European Partnership Agreement (EPA), the African Continental Free Trade Area (AfCFTA), the remarkable transformation of the business and investment climate in Kenya.
He also thanked his Cabinet colleagues and ministry staff with whom he interacted during his 9-year tenure.
"As we approach the August 2022 General Election, I have considered options on future roles I can play in the development of our country and have made the decision to run for Governor of County of Mandera.
"I express my gratitude to all the Cabinet colleagues I have worked with, as well as the staff of the various ministries I have served during this period and I wish them well as we support the development of our nation," he added.
He said he submitted his resignation Tuesday afternoon. With this resignation, he becomes the third CS to leave the government in accordance with a Court of Appeal directive requiring all civil servants running for elective office to leave office by Wednesday, February 9, 2022.
The other two are former decentralization cabinet secretary Charles Keter and his oil counterpart John Munyes.
Keter will be vying for the governorship of Kericho while Munyes will be angling for the governorship of Turkana County.
DP William Ruto and former Decentralization Cabinet Secretary Charles Keter in his Karen office in Nairobi on Tuesday, February 7, 2022.
Guillaume Ruto