Develop a work strategy that supports our local food systems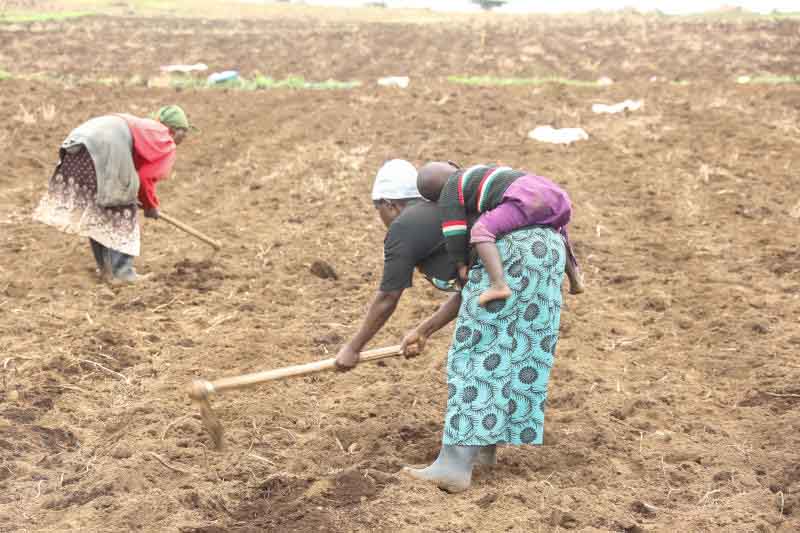 That Kenya is now importing more food at the expense of consumers is no surprise to anyone who has been to a supermarket recently.
The cost of basic groceries has increased, some, like cooking oil, to mind-boggling levels. Many households have to tighten their belts already tight in order to put a meal on the table.
Kenya's local food producers have suffered recurring setbacks in their business over the years, forcing the country to import food to fill the void. As reported by the Daily business on August 23, 2021, the current food import bill stands at an unprecedented 103.34 billion shillings between January and June of this year.
Up to 84 percent of fish is imported, the largest percentage (70 percent) coming from China alone. This has been largely attributed to the underlying issues on the development of policies and market systems that have not fully addressed the supply of inputs, the optimal use of available water resources, improvement and diversification of races, among other factors.
Good harvest
It's not just a fish problem. Earlier this year, corn farmers in Bomet and Narok counties denounced the supply of substandard seed from rogue suppliers. These counties only have one growing season, which means that farmers who have not had good harvests due to poor quality seeds will have to wait a whole year without any produce. Hence the need to import more maize from Uganda and Tanzania.
The national treasury does not fund agriculture to the optimum 10 percent of national budget allocations needed to address these concerns. Budget deficits coupled with the effects of Covid-19 and the locust invasion in East Africa along with the impending famine and the 2022 elections are pushing more Kenyans into food insecurity.
For Kenya to achieve the sustainable development goals of non poverty, zero hunger, reduction of inequalities and climate action, agriculture must be positioned as a key driver to overcome current challenges. Appropriate investment in the sector and primarily in the food system as a whole should therefore be non-negotiable.
Digital interventions
There is an urgent need to rethink efforts while scaling up proven initiatives at different levels of the food system. The support farmers need has remained constant over time: access to inputs, technology, information, finance and markets. Different digital interventions have proven that it is possible to provide access to these four elements at scale and at low cost.
From providing weather information via satellite, for insurance, to applications that connect farmers to markets, to non-traditional digital credit scoring that provides farmers with little or no banking history with access to finance, these innovations can open the world to Kenyans. Farmers.
The majority of these innovative interventions have been carried out by the private sector with varying degrees of success. The government and development partners must now step in and identify where they can support the private sector so that these solutions are delivered at scale to improve primary production.
Agro-SMEs connect farms to the market and can arguably be one of the most important parts of the food system. This sector, which has been called the 'hidden middle' due to being hidden from policy discussions, shared its key agendas for action as part of the 2020 Agribusiness Outlook Survey commissioned by the 'AGRA. Among these were the need for flexible financing structures and reducing the cost of money. Unsurprisingly, the sector called for increased public spending in agriculture as well as a downstream recommendation to increase the productivity of smallholder farms.
In addition, the Kenya Association of Manufacturers Deep Dive report on manufacturing under the "Big 4 agenda" identified several opportunities for agribusiness, including processing of vegetables, fruits and fish. Several policy interventions were also recommended, including the need for favorable lending rates and better corporate governance in institutions, including commercial banks.
The government needs to review its annual budget allocation in order to boost production while ensuring the adoption and implementation of policies that will improve Kenya's food systems, including ensuring that the sector is transparent enough for the benefits of the economy. market reach farmers.
Trade under the African Continental Free Trade Area began with the aim of providing better opportunities for traders, businesses, farmers and consumers by consolidating the continent into a single trading area by reducing and ultimately reducing eliminating customs duties on traded goods.
Manufacturing capabilities
Kenya will need to improve its production and manufacturing capacities in order to reap the benefits promised by the trade agreement, the key to which is the opportunity to tap into regional markets.
It is clear that there are many starting points that relevant stakeholders can begin to work on to improve food production and processing capacities and, by extension, provide better negotiating ground for Kenya as it trades with its regional and international partners. We cannot continue to deplore the high imports when our production is not competitive enough in a liberal market. We urgently need to develop a working strategy that targets and supports our local food systems.