Drought-hit families in West Pokot will receive a 5,000 shillings allowance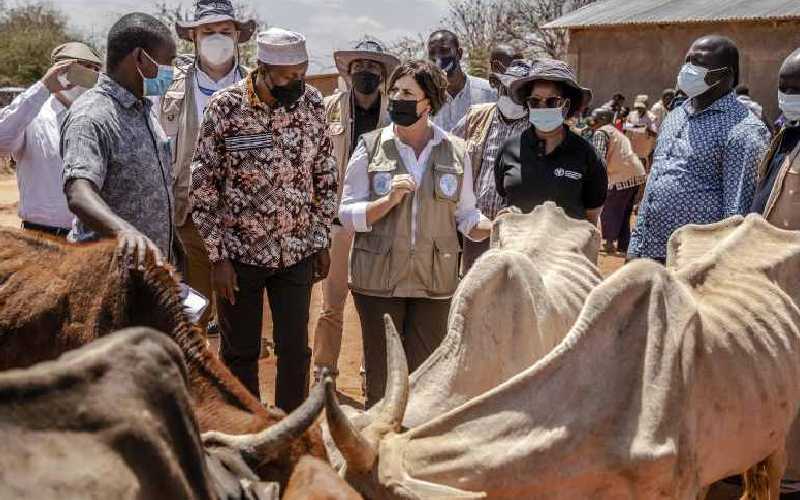 At least 2,723 households affected by the ongoing drought in West Pokot are set to benefit from a cash transfer of Sh5,000 courtesy of the Kenya Red Cross Society.
The program supported by the Italian Cooperation Agency should cover Akiriamet, Sekerrot, Cheptulel, Sarmach and Arpollo.
West Pokot is among 23 counties experiencing severe drought and has seen renewed inter-communal conflict as communities fight over scarce water and pasture.
Kenya Red Cross Society North Rift Region coordinator Michael Ayiabei said they were distributing relief food along the West Pokot-Turkana border, targeting more than 37,000 households.
"We have a lot of challenges related to the drought, and we are calling on supporters to help us as well. The cash transfer program will last for three months," he said.
He said the cash transfer would protect people from hunger and allow them to buy groceries.
They focus on areas hard hit by drought and where people have been displaced.
Ayiabei said the drought has disrupted patterns and they are helping communities set up community disease surveillance to catch early signs of disease.
"Most of the people depend on livestock, but we train them in farming and provide them with basic seeds for farming," he said.
He said the communities face many challenges due to shortages of water and pasture, which has led to inter-community conflicts.
"We also support rain-fed or irrigated agriculture, although projects are sometimes affected by bad weather conditions," he said.
Area Governor John Lonyangapuo, while flagging the donations at his residence, said the county had experienced poor harvests and residents needed food.
He said the drought has resulted in a zone of conflict as residents scramble for small resources as well as border points in West Pokot County and other neighboring counties.
Professor Lonyangapuo called on the national government to provide more food to hard-hit areas to avoid skirmishes.
"Along the border between West Pokot and Turkana, we experienced complete calm and peace for almost five years, but now conflict has resurfaced," he said.
He was grateful to the Red Cross for the donations, saying the affected county residents badly needed the food.
"My people don't have maize. We received rice and beans. Supporters should help us," he said.
The governor said 70-80% of families have been affected by the drought and food shortage.