Emphasis on manifestos of clan politics in Kisii's race for top spot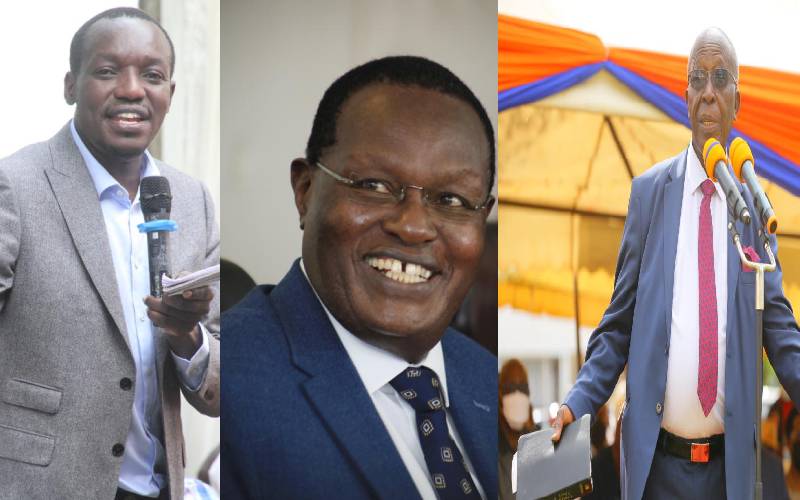 The race for governor of Kisii is no longer about clan politics or partisan affiliations, but about the manifestos of the aspirants.
Infrastructure, health, youth empowerment and agriculture feature prominently in the manifestos of the aspirants.
In the race are Rachel Otundo (PPK), Simba Arati (ODM), Chris Obure (Jubilee), Ezekiel Machogu (UDA), Manson Nyamweya (KNC) and Professor Sam Ongeri (DAP-K).
The campaign and media teams of these candidates have been burning the midnight oil on the best strategies to promote their respective camps.
Prof. Ongeri's priority areas include the Afya Bora Kwa Wote Mashinani initiative, clean water, sanitation, environmental conservation and agricultural transformation for food security which he seeks to achieve within two years. .
The empowerment initiative for youth, women and people with disabilities, support for trade and industrialization are all to be achieved within three to five years.
"I will promote jua kali space, market financial support, recognition, improvement, set aside scholarships, infrastructure, TVET institutions, ECD schools, improve value addition, distribution of crops and market expansion," says Professor Ongeri.
With health being a key pillar, Prof Ongeri says he will focus on upgrading health centers with an equal distribution of staff and facilitation as well as equipment.
Incubation centres, ICT hubs and entrepreneurial skills for self-employment will be the focus of attention on youth empowerment.
Mr. Machogu believes in the decentralization of resources to fund infrastructure development, especially road networks, education, health trade and small business development.
"This will help eradicate poverty and provide a healthy and highly skilled workforce. I promise to deliver beyond the promise. I have always adequately funded infrastructure development in our schools," says Mr. Machogu.
He said it was time for change, new leadership, new blood and a new vision.
"I will distribute resources fairly and impartially with the sole aim of eradicating poverty, ignorance and disease among our people," Machogu said.
The former provincial administrator says Kisii has huge untapped potential that can be harnessed to create jobs for our youth.
"The time has come when real men and women of goodwill must stand with true leadership capable of addressing the levels of poverty, unemployment and hunger that threaten the livelihoods and future of our people," did he declare.
ODM's Simba Arati manifesto is anchored on eight areas; Agriculture, economy, investment, education, health, infrastructure, security and governance.
This includes; helping farmers to earn a decent living, creating meaningful jobs, building ECD centers in every neighborhood, making health care affordable for all, extending the road network, improving access to drinking water, supporting the development of regional commercial airports and provide responsible leadership that values ​​every resident.
"We are determined to usher in a new way of leading; an inclusive, cohesive and development-oriented society. It's time for new ideas, a new approach to politics and development," he said.
If elected governor in August, Chris Obure of the Jubilee Party says he will prioritize rapid action in key areas affecting the well-being of residents, including health, clean water supply, improving the working environment for merchants and creating jobs based on technological advances. among others.
"Kisii is rich in natural resources which must be fully utilized to achieve economic and social growth. I have formed a team that will look at ways to achieve all of this. This requires proper, people-centered leadership that has achieved all of these milestones. »
The leader of the Kenya National Congress, who carries the party ticket, Manson Nyamweya, said he has a ten-point agenda that he will achieve within 100 days of his term in office and some within the first five years.
In 100 days, it seeks to extend universal health insurance to an additional 10% of the eligible population and promote access to credit facilities.
Under his leadership, he will also form youth infrastructure committees to rehabilitate 100 km of roads and facilitate the training of at least three young Saccos in each constituency to develop micro and small businesses.
"There is a need to involve all county leaders in policy formulation. It will be a people-centered government where public participation will be mandatory according to the constitution.
Progressive Party of Kenya aspirant Rachel Otundo said her priority would be to reduce corruption and waste and save money for roads, procurement of drugs for hospitals and fair and equitable distribution. equitable resources.
"We need to create theater centers, academies and camps to attract investors and support grassroots men and women."
Agriculture, she says, is doing worse than it was before decentralization. "No new market and no added value. We must create jobs through industries, soapstone, bananas, avocado and sugar cane.
Under his leadership, she says, she will introduce high-yielding crops.
"Before funding these industries, we need to find a single market. A factory can only thrive once we set up our own farms for fresh produce and then check the sustainability of the market. »
It will also streamline the civil service by ensuring that ghost workers are dealt with.