Farmers count losses as Kenya bans poultry imports from Uganda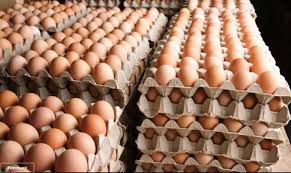 Ugandan poultry farmers under their umbrella, the Poultry Association of Uganda (PAU), demanded government intervention after the Kenyan government banned the import of Ugandan eggs.
Speaking to reporters on the Uganda Manufacturers Association website, Lugogo Kampala, Peter Ssenkungu, UPA general secretary, called on President Museveni to intervene urgently and discuss the matter with his Kenyan counterpart. , President Uhuru Kenyatta.
Ssenkungu said they contacted the trade and agriculture ministers but all efforts were in vain.
"We have engaged the Ministry of Agriculture and the Ministry of Commerce but they did not help us, nothing happened, which is why we are calling for the immediate intervention of the presidents," he said. declared.
Adding: "We need urgent help because we are dealing with perishable goods."
Ssenkungu said that in addition to shutting down the markets, they were losing over Shs 6 billion a day.
"We produce over 3 million eggs a day, or around 6 billion shs, but the market that consumes over 70% of them is closed, just look at the losses, and if a Ugandan truck is impounded at the Kenya, he is fined up to UGX 32 million, "he said.
Ssenkungu said if the government does not intervene, the banks will take over their properties, leading to the collapse of the poultry sector.
Uganda exports up to 70 percent of all poultry products to Kenya, only 20 percent is consumed locally and the remaining 10 percent is exported to South Sudan and the Democratic Republic of the Congo.
Siraje Sserunkuma, a leader of the poultry association, revealed that the ban will have an impact on poultry as the final price of chicken and eggs in the country, in addition to high feed costs, has already slowed down though low, with a tray of eggs costing 6000.
Charles Jaggwe, a loss-counting poultry farmer, said he was worried and overwhelmed by the ban
"If you put in place something like closing the borders, it means that the demand for eggs from such a farm will decrease. For example, if you produce more than 100 trays, it means that you will not sell any of them and you will not be able to maintain your business, "he said.
He also explains that before the ban on poultry products, he earned 4.5 million shillings a day, but his income fell to 950,000 shillings.
JB Wasswa, a poultry farmer based in Mpigi, said the sector has maintained the economy for a long time by buying corn, brands, employing people, but the price of feed and other inputs is there. raised.
Industry experts say Kenya's behavior shows protectionism still exists even when regional heads of state advocate for economic integration.
The latest hostilities began in December 2019, when Kenya stopped importing Ugandan milk.
In July 2020, the country implemented a ban on Ugandan sugar, in violation of an earlier agreement to increase Uganda's sugar exports to Kenya.
These measures came as Uganda increased its capacity to manufacture and process goods traditionally imported from Kenya.
Kenya has denied accusations by Ugandan lawmakers that it is acting to protect its local markets, insisting it is wary of the quality of Ugandan exports and doubts the country meets food safety control standards.
Authorities also confiscated Ugandan milk exports, including powdered milk and long-life milk for "verification checks."
Observers pointed out that the restrictions run counter to a customs union protocol established by the single market of the East African Community (EAC).
Both countries are part of the EAC alongside Tanzania, Rwanda, Burundi and South Sudan.
Another concern is that the trade feud has also led to an increase in non-tariff barriers between EAC member states.

Views of the publication:
17