How the company exploited the rich meat trade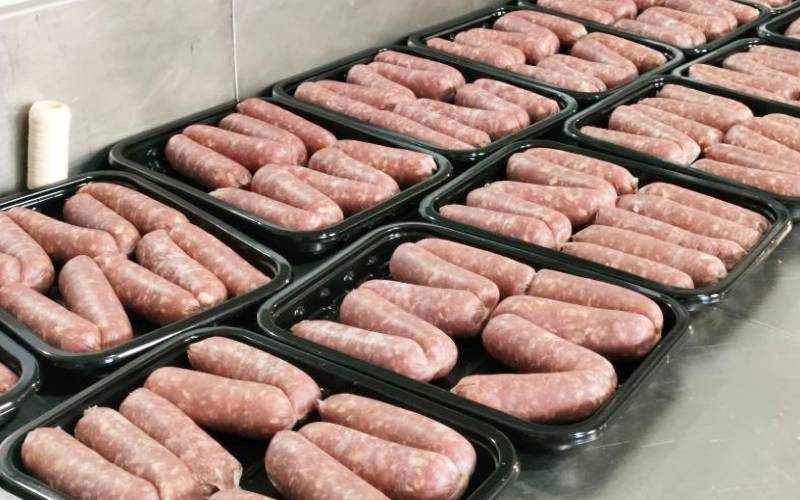 It is a hive of activity inside the Well Hung Butchery Ltd (WHB) located in Timau, along the Nanyuki-Isiolo road. The workers are busy making various beef products. Some pack beef burgers, others turn sausages, and some carve beef steaks on a long table.
Jack Dyer, the managing director of WHB, paces around, helping some of the employees as he oversees the processing inside the butcher's shop.
The butcher shop which is part of the family business owned by (Jack Dyer's father) started in 2016. So why did they decide to go into the meat business?
"We saw the demand and decided to get into this business. High quality beef and its by-products are our driving force, "Jack told The Smart Harvest and Technology during a visit to their butcher shop.
When they started, Jack said they wanted to bridge the gap between high-quality beef that comes from the farm and the same quality meat that lands on the table for consumption.
"Back then we were raising and producing quality meat from cattle, but what ended up on the table was of poor quality. There was a gap somewhere, "he notes.
Did research
Before going any further with the new idea, they researched the best way to cool meat and the whole process for high quality beef and by-products.
For quality beef products, Jack says it all starts at the farm and then at slaughter which should be humane slaughter.
"When the animal is slaughtered, if human practices are not followed correctly, the quality of the meat becomes poor," Jack warns.
Since it is food products, he says hygiene is key. Thus, at the entrance of the WHB, the employees must be clean.
To achieve this, they first disinfect, put on functional uniforms before starting any operation inside the butcher's shop. Visitors should also disinfect and maintain high standards of hygiene.
For quality and premium meat, first of all, their cattle for slaughter are transported in a humane manner.
Once at the slaughterhouse, the animals are left to rest for at least 48 hours, giving them sufficient time to calm down and relax. Jack explains that they do this to maintain the quality of the meat and throughout their meat products.
Professional meat handling
One animal is slaughtered at a time, and between each, the room is cleaned thoroughly so that there is no blood or traces of slaughtered cattle before the next animals arrive. This way there is no fear or adrenaline from another animal being transferred to another.
Cattle are slaughtered in a cage, then lifted to bleed while they are hung. He explains that once the blood is out, the carcass is lowered to the ground and the skin, head and hooves are removed.
Jack says he is then thoroughly cleaned and taken to the vet for inspection. After inspection, the meat is taken to a small room where the temperature varies between 8 and 10 degrees.
"Here, the meat is stored for 12 to 24 hours, which allows it to cool slowly to preserve tenderness. It is then taken and stored in another room below two degrees, "he explains.
He adds that with the constant disinfection and the temperature below two degrees during handling, they can store the meat comfortably for 100-140 days and it stays fresh.
Meat is also taken in by aging. Aging, he says, is done so that the meat is tender, smoother and tastier and takes 21 days.
All carcasses are labeled and placed on slaughter dates and at the start of processing.
They slaughter 20 cattle in a week.
Processing
After all this, the meat is then processed and upgraded into different products. WHB processes sausages, pastrami, pre-smoked prime rib, burgers and bacon.
"Everything we do here takes orders. We have diverse client groups from schools, restaurants, hotels, individuals and foodservice establishments, and online shoppers. Orders come in every week, "says Jack.
Inside the WHB, there are various machines for making sausage and other end products, weighing, sealing, labeling and packaging.
For quality meat, cattle are fed natural grass. At the butcher's shop, the meat is not supposed to stay on the table for more than 40 minutes.
"If it does, while you're working on it, you take it back to the cold room and wait another 20 minutes." After that, the table needs to be cleaned thoroughly, because the meat you collected may have started to produce bacteria that lead to rotting, "he says.
He adds that a worker must change gloves and cutting board before bringing in another fresh meat for processing.
Michael, the oldest of the dyers, also provides new insights into the meat trade.
Michael reveals that they have been raising cattle for many years in a family business. However, along the way, they decided to invest in their own butcher's shop to meet a market need.
He says they wanted to process the meat in a way that respects the welfare of animals from farm to slaughter. Although they slaughter their own cattle, Michael says they also buy from communities and other ranches.
"While we want high quality livestock, it is sometimes a challenge when you buy from the community as they rarely champion animal welfare issues," says Michael.
The main challenges they face are the prolonged drought which results in a shortage of grass for the livestock, foot-and-mouth disease which results in economic losses. Foot-and-mouth disease is a serious and highly contagious viral disease of livestock with a significant economic impact.
Market trends
In the markets, he explains how they managed to hack him.
"Some of the restaurants we supplied wanted us to make hamburger meat. We then bought a machine for it and started taking orders. Over time, more and more orders started to arrive. Since then, we've built a following as people learn about what we're producing.
The young dyer says he has not taken up any marketing challenge because they are aggressive on this front and their products are of quality. They target everyone, including the Islamic community, who prefers pastrami (highly seasoned smoked beef specially prepared from shoulder cuts).
For those who want a piece of the pie, Michael says the market is huge.
"There is a high demand for meat in Kenya and when you offer quality you can never go wrong," he explains.
In the international market, he says, "We are currently selling our products locally and the market is good. We can't even satisfy him. We do not export meat because we are barely able to meet local demand. But I know there is a market in the Middle East.