Inside two factions of Mount Kenya billionaires controlling state power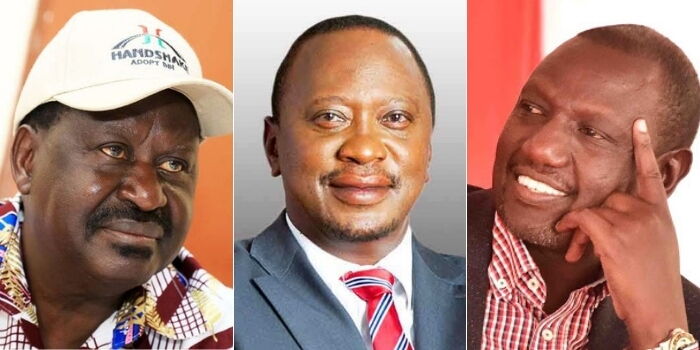 Deep state and system are two words that have become synonymous with Kenya's elections as the country prepares to go to the polls in eight months. The two words have become so popular in the country with warring political factions expressing different opinions on their role in determining election results.
The August 9, 2022 election will be one of the most contested polls in the country since the return to multi-party democracy in 1992.
Kenya's election would be heavily influenced by individuals with deep pockets. This is based on the lamentations and allegations of senior politicians and opinion leaders. The alleged Deep State and System members are believed to be prominent businessmen seeking to protect their interests and wealth.
Many are said to be billionaires from Mount Kenya who greatly contribute to the country's economy as they have dominated almost all industries; from industrialization to agriculture and banking. Two of the region's wealthy factions are currently in the throes of a crisis on whether to support Vice-President William Ruto, former Prime Minister Raila Odinga or the leader of the Amani National Congress (ANC), Musalia Mudavadi.
Party leader Wiper Kalonzo Musyoka (left), ANC party leader Musalia Mudavadi (middle) and FORD-Kenya party leader Moses Wetangula (right) at the One Kenya Alliance meeting held at Hermosa Gardens in Karen on Tuesday July 20, 2021.
Kenyans.co.ke
"We are threatened that there is a system or a deep state made up of people who will rig us during the general election and that the winners have already been predetermined. They have the system but we have the people and God on our side, "Vice President William Ruto said on Tuesday, August 11, 2020, during an event at his home in Karen.
"I do not hold any post in the Government of Kenya. It is headed by the President and his deputy, whose names you know. So if you say "Deep State", who is there? It is the President and his deputy. So ask the DP what deep state is he talking about? "Raila replied a few days later.
According to insiders with knowledge of the information, the two factions pushing for Ruto, Raila and Mudavadi are codenamed Muthaiga Club and Windsor Five, with both camps made up of billionaires from the voice-rich Mount Kenya region.
Both groups are identified by their meeting joints, where they hold exclusive rights and privileges over executive lounges.
The Muthaiga Club tycoons include a group led by a senior Jubilee official under pressure to resign after the party lost track and contact with the base, a big banker and a media mogul, among others.
These billionaires are said to be defending Raila to succeed President Uhuru Kenyatta, going so far as to negotiate a pre-electoral pact between Uhuru's Jubilee Party and Raila's Orange Democratic Movement (ODM).
The group is also behind the management of Raila's image, its notoriety in the media and its meetings with the Mt Kenya Foundation – powerful figures behind the country's economy.
On the other hand, the Windsor Five tycoons back the candidacy of DP Ruto and former Vice President Musalia Mudavadi. This group includes only five billionaires who wield so much power due to their economic status.
The five billionaires see Ruto as a more secure pair of hands than Raila – who has long been an anti-graft activist. According to our source, the Windsor Five believe Ruto is in the best position to protect their interests and businesses while protecting their wealth.
President Uhuru Kenyatta and former Prime Minister Raila Odinga officially open 48km Ngong-Kiserian-Isinya and 43km Kajiado-Imaroro in Kajiado County in May 2021
PSCU
Nonetheless, they consider Mudavadi to be the safest option and rank him better than Ruto. Mudavadi is considered calm and easy to take and carry out orders. His family also has ties to Kenyatta over the decades and has managed to keep his business interests under wraps.
"The Windsor Five is considered more powerful than the Muthaiga Club. The Windsors were the force behind Uhuru's success in 2013. When Uhuru made a pre-election pact with Mudavadi that same year, they were very furious and ordered him to reverse that decision.
"But the pact was more of a gentleman's deal between Mudavadi and Uhuru and not with the billionaires," the insider said. Kenyans.co.ke.
President Uhuru Kenyatta would nevertheless have a say in his successor, with both groups seeing him as the backbone of the region. Analysts have on several occasions questioned his decision, saying he played chess on both Raila and Ruto.
Some analysts and politicians believe he will support Raila in 2022, due to their handshake, while others argue that he will stay with Ruto.
The feud between Uhuru and Ruto has been called into question, with many claiming it was a well-orchestrated plan to tame Raila, which disrupted Jubilee's agenda between 2013 and 2018 with countless protests that destabilized the economy.
Uhuru the art of political double talk has been evident in the audience through his speeches, attacking Ruto and seemingly lukewarm about supporting him in 2022 on one side and supporting Raila and not being able to clearly endorse him on the other.
"I never said I wouldn't support William Ruto, why do you keep insulting me? Yes, I said kumi kumi, yangu kumi iliisha lini? (I have to fulfill my two terms, then he fulfills his two terms. But is my term over? "He asked, addressing delegates at Sagana in January 2021.
In the same month, however, he hinted at the support of another community to run for president other than the Kalenjin and Agikuyu.
"To be honest, those who say that they are tired of this or that family and that the opportunity should now be given to anyone … whether it is thought or logic … I can too come to the conclusion that only two communities have had the presidency and we have to give the opportunity to another community ", he declared during the funeral service of Hannah Mudavadi, the mother of Musalia Mudavadi of the ANC.
President Uhuru Kenyatta welcomes DP William Ruto to Nairobi County Parliament during the 18th Annual National Prayer Breakfast on Thursday, May 27, 2021
PSCU