Iria meets delegations and undertakes to demonstrate in January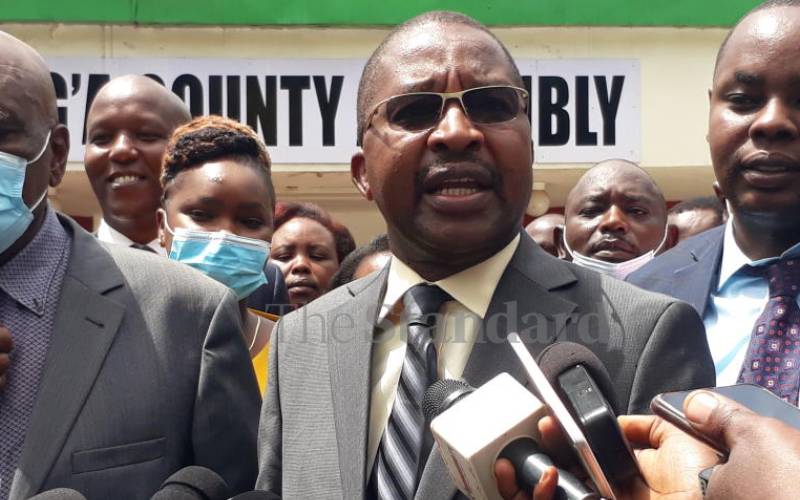 The presidential candidate and governor of Murang'a, Mwangi wa Iria, has met with delegations to consolidate his support ahead of next year's elections.
The governor of the second term met with delegations from Nyanza, Mount Kenya and the Rift Valley.
On Thursday, Mr. Iria (right) met with leaders of the Maa and Luhya communities in Nairobi. The leaders are said to be planning to join the Usawa Kwa Wote Alliance of Iria, fearing that they will be rigged in appointments to other political parties.
The governor also branded vehicles and erected billboards across the country to popularize his candidacy and the Usawa Kwa Wote party.
"I have about 130 candidates for parliamentary seats and 1,125 for the MCA slots. There are also several current and former governors and senators who request certificates from the party, "said Iria.
In Murang'a, there are MCA candidates and senators lined up for appointments under Usawa Kwa Wote. On Friday, the governor met with leaders and businessmen from Nairobi County where he presented his program and vision.
He invited like-minded political parties to the Usawa Kwa Wote Alliance. "I will be launching national campaigns in January in which I will share my manifesto with Kenyan voters," he said, explaining that he is passionate about health, ECDE and agriculture, among other programs intended to raise the standard of living of rural people.
At the same time, deputy ANC party leader Ayub Savula said party leader Musalia Mudavadi had been visiting the region since June and had made inroads. "We have held meetings with leaders in various parts of the country and especially in Murang'a, to popularize our aspirant who is a member of the One Kenya Alliance initiative," he said, adding that Mudavadi will be visiting. in the city of Murang'a on December 17th.