Kenya-China Chamber of Commerce opens office in Beijing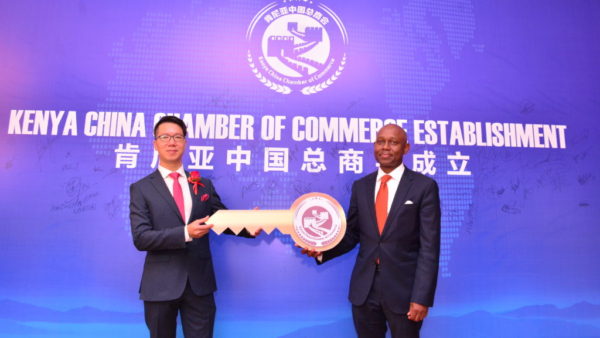 The Kenya China Chamber of Commerce (KCCC) has opened an office in Beijing, an initiative that aims to facilitate trade between the two countries.
Speaking at the Nairobi China Trade Investment Forum, KCCC Chairman Tim Chen said the Beijing office will focus on supporting businesses in two countries.
"The last two years have been difficult for the Chinese and Kenyan business communities, due to Covid-19. Our business people have not been able to import and export in large quantities, because of the restriction related to the pandemic. This has caused delays in imports and exports, widening the trade balance between Kenya and China. That is why, as the Kenya-China Chamber of Commerce, we have opened an office in Beijing to start facilitating trade and identifying export opportunities for Kenyan businesses," Chen said.
Trade imbalance
He added that the office will also address the trade imbalance between Kenya and China, identifying new business opportunities in agriculture. Kenya exported goods worth $34.8 million to China and imported goods worth $3.29 billion. This is a huge disparity given that Kenya has the potential to export more agricultural products.
"Our priority will be agricultural products like coffee and tea. For example, in 2019, China was the world's 9th largest importer of tea by dollars, which equates to $187.3 million. Capturing just a small percentage of this would bring huge benefits to Kenya. And it's not just tea – coffee consumption in China has also grown by an average annual rate of 16% over the past decade. And Kenya has a significant advantage in tea and coffee production. In 2016, Kenya accounted for 27% of global tea sales, and tea was Kenya's second largest foreign exchange earner, while coffee was Kenya's third largest foreign exchange earner," Chen explained.
On his part, Kenya National Chamber of Commerce and Industry, Nairobi Chapter President, Julius Opio, hailed the partnership and collaboration calling it groundbreaking.
"This investment forum is a great opportunity, as trade and trade-related issues, as well as investment, are of great importance to both countries. This is an area we look forward to strengthening, deepening and even cementing," Opio said.
"You will agree with me that only by working together can we achieve the desired results for closer bilateral cooperation and strategic partnerships. We have definitely made good progress," he added.