Kenya cuts fisheries funding in new fiscal year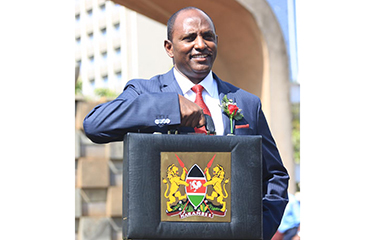 Kenya has cut the budget for its fisheries projects by 27% for the next fiscal year, even as the government seeks to complete key projects it launched earlier.
National Treasury Cabinet Secretary Ukur Yatani has allocated KES 7.8 billion (US$67.2 million, €61.7 million) to various projects promoting aquaculture, fish processing and fisheries infrastructure, such as wharfs and landing areas, for the fiscal year beginning June 2022. This allocation represents a decrease from KES 10.7 billion (USD 91.7 million, EUR 84.2 million ) that the national treasury allocated last year.
As part of the KES 3.32 trillion (US$28.5 billion, €26.2 billion) budget, Yatani has allocated additional funds to some ongoing fisheries projects, including those partly funded by international lenders and development partners.
The three-component Kenya Marine Fisheries and Socio-Economic Development Project – partly funded by the World Bank – has been allocated KES 2.8 billion (US$24 million, €22.1 million) , against 3.4 billion KES (27.5 million dollars, 25.2 million euros). million) it was allocated last year. The main components of the development project include governance and management of marine fisheries, empowerment and livelihoods of coastal communities, and project management.
The budget also includes KES 1.9 billion (US$16.3 million, €15 million) for an ongoing aquaculture enterprise development project to help potential aquaculture producers in 15 counties in Kenya. The project is supported by the International Fund for Agricultural Development (IFAD) and aims "to help a large number of smallholders to become profitable fish producers or village providers of related services within a chain of secure value," according to IFAD. .
A planned fish processing plant in the coastal county of Lamu has received KES 1 billion (US$8.6 million, 7.9 million), while the rehabilitation of fish landing sites on the shores of the Lake Victoria received KES 210 million ($1.8 million). million euros, 1.6 million euros).
In addition, Yatani announced an allocation of KES 270 million (US$2.32 million, €2.13 million) for the Kenya Coastal Fisheries Infrastructure Development Project, and an additional KES 204 million (1 .8 million dollars, 1.6 million euros) for the development of aquaculture technologies and the transfer of innovation. program over the next year.
Kenyan President Uhuru Kenyatta has called for accelerating the sustainable development of the country's seafood sector and said better fisheries management will be a priority for Kenya.
Photo courtesy of the National Treasury of Kenya.