Kenyan billionaires who started out as teachers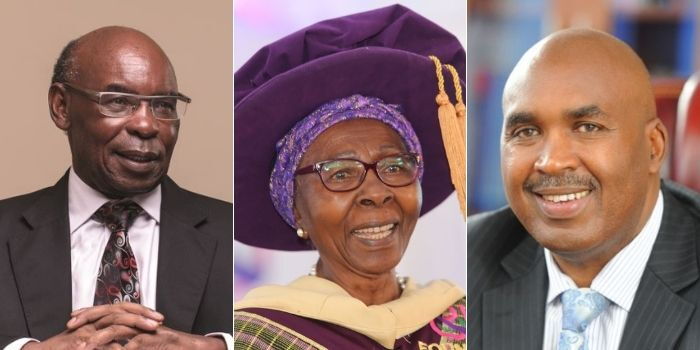 Throughout the world, the teaching profession is a highly valued career, given the role teachers play in shaping the future of their students.
Unknown to many, there are prominent Kenyan billionaires who started their careers as teachers. Whether they work as Standard One teachers or lecturers, billionaires have made their fortunes in education and other fields.
Here is a list of Kenyan billionaires who started their careers in the classroom.
Daniel Gachukia, founder of the Riara Group of Schools, and his wife Eddah Gachukia at the Sarit Center in 2016.
Daily Nation
1. Daniel and Eddah Gachukia
Before founding the Riara Group of Schools, Professor Eddah Gachukia and her husband, Dr. Daniel Gachukia, started their careers as teachers after graduating from Makerere University in Uganda.
While Daniel taught at Namilyango High School in Uganda, Thika and Kagumo High Schools in Kenya, Eddah started her teaching career at Thika High School.
After continuing her studies at the University of Leeds and the University of Nairobi (UoN), the linguist began her role as a lecturer at UoN from 1973 to 1987. During this period, she also was made a deputy.
Over the years, the duo have built the Riara Group of Schools into a prestigious multi-education institution that includes a kindergarten, primary school, secondary school, international school and Riara University.
2. SK Macharia
Over the years, SK Machari has become popular among Kenyans for his investments in the media industry, namely the establishment of Royal Media Services (RMS), the parent company of Citizen television.
Unknown to many, the billionaire began his career as a teacher. Prior to joining Kahuhia Teachers Training College, Macharia served as an untrained primary school teacher in Makomboki, Muranga County.
During a previous interview in February 2020, the billionaire said he taught at another primary school before moving to the United States to continue his studies.
"In 1958 and 1959, I attended Kahuhia College for P3 teacher training and qualified to teach first class students. I was number one in that college and was assigned to the primary school in Gaturo where I taught for three months," said Macharia. .
A file image from Citizen TV Studios
Digital citizen
3. Daniel Arap Me
Before entering politics, Kenya's second president, the late Daniel Arap Moi, worked as a teacher. Moi was assigned to Tambach Teachers Training College where he served as assistant principal.
In 1955, he became a member of the Legislative Council of Kenya (Legco) and later joined the government serving in various cabinet posts and the post of Vice President before assuming his role as Head of State after the death of the founding President. , Jomo Kenyatta. in 1978.
Despite his career as a politician, Moi enriched himself by establishing various educational institutions in the country, such as Kabarak University, built on his farm in Kabarak, Nakuru County. Over the years, his family has been considered one of the wealthiest families in Kenya.
Former President Daniel Arap Moi (center) speaks with former Prime Minister Raila Odinga (right) and Senator Baringo Gideon Moi at his residence in Kabarak on April 12, 2018.
File
4. Simon Gicharu
Unknown to many, the founder and president of Mount Kenya University (MKU) taught at various secondary schools before teaching at Thika Technical Training Institute and Jomo Kenyatta University of Agriculture and Technology ( JKUAT).
Gicharu graduated in 1990 from Kenyatta University with a bachelor's degree in mathematics. Additionally, he is also the author of Applied Mathematics for Craft Engineering.
Under his leadership, MKU became the largest private institution of higher learning in the country, going so far as to open a branch in Kigali, Rwanda.
Apart from its investments in education, Gicharu also owns Cape Media Limited which manages TV47.
MKU President Simon Gicharu addresses 2019 Thika Main Campus graduates
File
5. Mwai Kibaki
Kenya's third president, Mwai Kibaki, joined the teaching profession as an assistant lecturer in economics at Makarere University in Uganda.
Unknown to many, he was the first African to earn a first class in economics from the London School of Economics.
In 1960, Kibaki entered politics after joining Kenya's independence party, KANU. He served as vice president during Moi's reign and was elected head of state in 2002.
During his reign, his administration achieved significant milestones in the education sector through the introduction of free primary education.
Former President Mwai Kibaki (right) enjoys a piece of cake during a past celebration.
File