Kiunjuri: Ruto hid critical details of Kenya's Kwanza MoU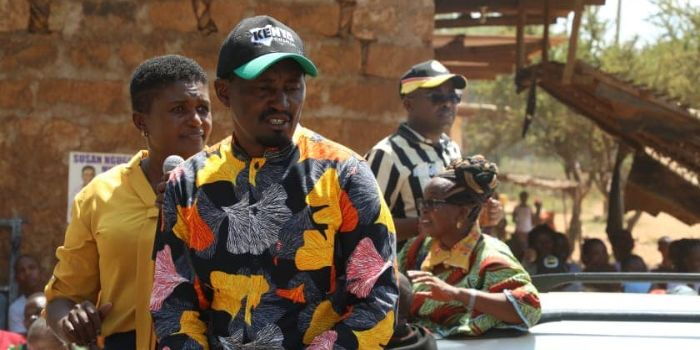 Service Party (TSP) leader Mwangi Kiunjuri has claimed that Vice President William Ruto hid critical details of the contents of the Memorandum of Understanding (MoU) submitted by Kenya Kwanza to the Office of the Registrar of Political Parties (ORPP ).
Speaking at a campaign rally in Tharaka, Kiunjuri – who is also a Kenya Kwanza director – claimed that TSP was unaware of Mount Kenya's involvement in Ruto's government, despite signing a memorandum upon joining the coalition.
He added that even the leaders of the region who are in the UDA had not disclosed what brief they had submitted to the ORPP.
Former Agriculture CS Mwangi Kiunjuri (L) and Vice President William Ruto pictured at Thiru Secondary School in Laikipia County on February 22, 2020.
"TSP hasn't submitted theirs yet, nor has Tujibebe – and those from the UDA haven't told us what memorandum they submitted so we know what we have in Ruto's government," he said. he declared.
The former CS of Agriculture advised the people of Tharaka not to vote for DP or Azimio flag bearer Raila Odinga without knowing how they would benefit from the respective leader.
"We need to know what we are being offered in the government of Ruto or Raila so that we are not reduced to people who only vote so that others can benefit when they come to power," he said. he explained.
Furthermore, he called on the Mount Kenya region to require the presidential candidate to openly state his plans for the election, not only during campaigns but through written plans and policies.
Kiunjuri further warned candidates in the region against focusing on promoting the Ruto and UDA agenda during campaigns and instead informing voters on how they would improve their lives. .
"We haven't had a factory for almost sixty years and yet it can employ almost 4,000 young people. These are the kinds of discussions we want to have, not just singing UDA and Ruto from morning to night," did he declare.
In March, the leader of the TSP party announced that his party would wage solo campaigns against what he said was blatant patronage by coalition parties. He accused the UDA of sidelining his party during campaigns.
The former CS considered the coalition to be dishonest in its support for the TSP which officially joined the front on 12 April. He added that the zoning of elective areas between affiliated parties threatened the candidacy of Vice President William Ruto.
"The emerging conflict, sibling rivalry, turf protection and attention are concerning because it could easily lead to undesirable consequences for our presidential candidate – if not handled well," he said. added.
DP William Ruto during a campaign in Mandera on Wednesday June 8, 2022.
Guillaume Ruto