Many fear death as 4 vehicles ignite on the highway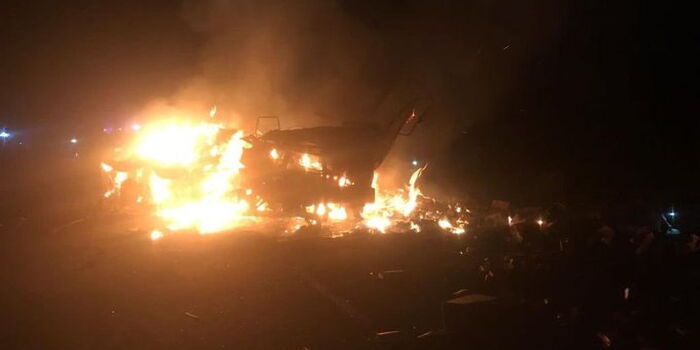 Several people are believed to have died after four vehicles caught fire in Ntulele in Narok County. Vehicles traveling on the busy Narok – Mai Mahiu highway were involved in a tragic traffic accident on the night of Saturday, November 20.
However, at the time of going to press, the number of casualties had not yet been established and rescue efforts were underway.
Witnesses at the scene reported that several people were trapped in the burning vehicles even as police rushed to the scene to establish the cause of the crash and assess the extent of it.
Several reports said area residents, commuters and other motorists were helping emergency service providers put out fires and rescue passengers caught in the blaze.
A road sign warning near the Ntulele black spot in a photo dated 2020
To file
Police are currently on the scene directing traffic with a detour created to allow passage of other motorists.
The Ntulele region is a famous black spot where more than ten deaths are reported each year.
Traffic officers claim that motorists always defy warning signs along the highway as they approach the three-kilometer stretch of the road near the Pinyiny Hills of Ntulele.
In August 2013, 41 passengers crashed after their PSV overturned. Two months later, 25 people died in a black spot accident. Over the following years, nearly ten deaths were reported each year.
Between January 2021 and September 20, 2021, some 3,212 people were killed in crashes compared to 2,560 who died in the same period last year, an increase of 652 people.
Of those who died this year, 1,111 are pedestrians, 311 drivers, 520 passengers, 318 passenger passengers, 61 pedal cyclists and 891 motorcyclists.
Reckless driving, dangerous overtaking, driving while intoxicated, walking while intoxicated, driving while intoxicated, not wearing a helmet, among other problems have been attributed to the increase accidents.
The black spot of Ntulele along the Narok-Mai Mahiu highway
To file
More soon…
dead accident deceased death crash kill drunk