New rice varieties to boost yields as part of collapsed program stimulus package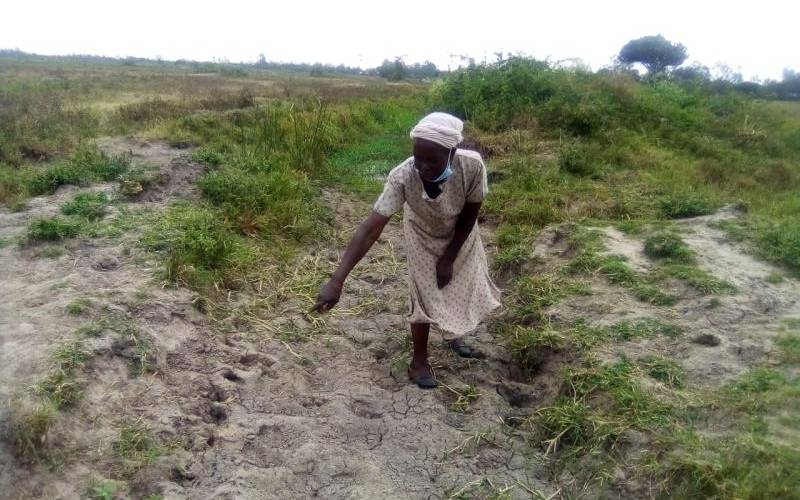 The Ministry of Agriculture and the National Irrigation Authority (NIA) have partnered in a new strategy to boost rice production in Kisumu and Busia counties.
According to Dr. Mary Mutembei, rice promotion program manager at the Ministry of Agriculture, the Mwea irrigated perimeter has been producing rice for a long time and is exhausted in terms of space.
Dr Mutembei said the ministry is currently looking for other areas to plant the crop and customize the improved production technologies that have been tried in Mwea.
"The variety grown in the region is not popular in the local market, but farmers are quickly picking up new varieties. We are currently in Ahero," Dr. Mutembei said.
"We have also invited the private sector to import hybrid rice to this region and the rest of the country. We also have new varieties developed by KALRO in collaboration with the International Rice Research Institute," she added.
She noted that one of the main programs of the ministry for the region is to improve the market strategy.
"We have seen great investments in the milling sector which was a big challenge in this region. We didn't have good milling facilities and as a result we were producing very poor quality rice that couldn't compete with the imported varieties," she said. "With the arrival of the private sector to invest in milling facilities and also to mechanize rice production practices, we can see a bright future for the right value chain for this region."
However, John Odawo, a rice farmer from the Ahero Irrigation Scheme, said their main problem was the constant invasion of birds.
Mr Odawo said he was forced to watch his rice paddies from 6 a.m. until around 7 p.m. to hunt for birds.
"It's our daily routine here, at least until we harvest our crops in the next two weeks with my wife. If we don't watch the birds, we will end up with nothing at the end of the harvest," he said.
Mr. Odawo added that the market is also "a nightmare since we hardly make any profit after harvest. We have to sell at lower prices, which is a big setback for farmers. »
Another farmer, Bernard Odhiambo, who has been growing rice for over 25 years, said he produced very few yields when he started farming years ago.
However, with the introduction of new varieties and different technologies, there is a great improvement.
Mr. Odhiambo said some farmers harvest up to 60 bags of rice, whereas in the past the maximum yield was only 25 bags per harvest. He said that in addition to bird invasion, farmers also have to deal with a complicated production process.
"And now, as we prepare for the harvest season in the next two weeks, we are worried about the rains to come.
"These new varieties which are hybrids do not do well in case of heavy rains with winds and hailstones. If it rains a lot, we will be forced to do manual harvesting and that means low yields," Mr. Odhiambo said.
He explained that a bird consumes rice equivalent to its own weight. Therefore, if a bird weighs 80 grams, for example, it will consume this amount in the rice field. Unfortunately, birds often flock in their thousands.
Joel Tanui, the Nyanza regional coordinator for the NIA, said the organization is in contact with the crop protection unit and the county government to launch a bird population reduction program in next month. the rice belt.
Mr Tanui said the program aims to ensure that during the peak harvest season, bird numbers are low.
"We look for bird breeding sites and estimate the population, then chemically reduce them in terms of numbers. We have another program with the Kisumu County government to reduce the bird population, but targeting species that feed on rice," he said.
Mr. Tanui explained that in the past two years, a program with farmers and research institutions has been implemented to introduce new rice varieties to farmers.
"For example, a farmer who used to get 25 bags per acre is now getting 45 bags per acre, which is double what he had initially and that has been a very big increase in rice production in this region," he said.
Mr. Tanui further noted that the irrigation board is in contact with the Kenya National Trade Corporation (KNTC) to ensure that locally produced rice is marketed.
"The challenge in the region is the lack of rice mills that do not produce the best quality required by the KNTC. Local farmers do not meet quality parameters and therefore do not sufficiently serve the market," he said, noting that farmers have been forced to sell their produce to Ugandan millers.
"The challenge is however being met by acquiring a new rice mill under the partnership which will be based in Ahero so that all farmers can benefit and supply KNTC," Mr. Tanui said.
Officials said only the Mwea irrigation system is currently producing a large amount of rice, with Kenya still importing 80% of the commodity. In 2020, Kenya spent about 25 billion shillings to import rice.