Ruto blames Uhuru and Raila for the high cost of living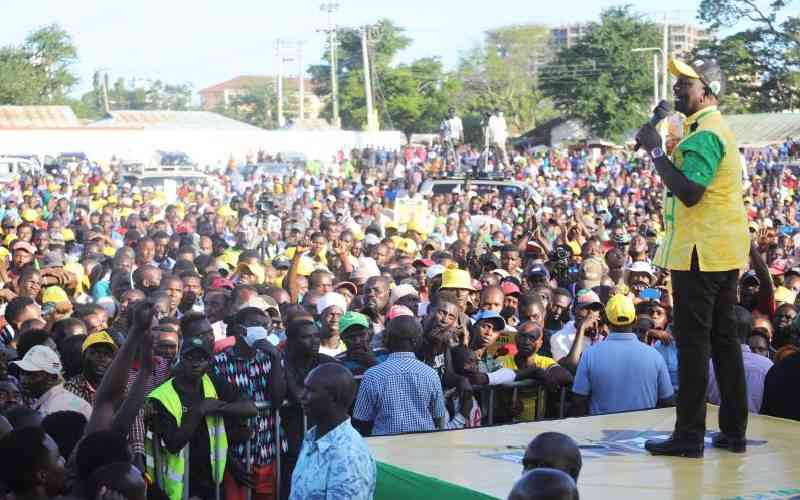 Kenya's Kwanza Alliance leaders continued their whirlwind tour of the coast where they promised to cut the cost of living and audit all capital-intensive projects undertaken by the Jubilee administration.
Vice President William Ruto said if elected he would reintroduce a subsidy to lower the cost of fertilizers to 2,500 shillings to promote agriculture which would ultimately reduce the cost of food.
Speaking at the Tononoka Grounds in Mombasa, Ruto said the cost of living was unbearable. He accused President Uhuru Kenyatta and ODM leader Raila Odinga of turning a blind eye to the issues plaguing Kenyans.
"President Uhuru told us that he receives advice from Raila. If Raila didn't tell the president to lower the cost of living, how will he do it if elected? asked Ruto.
He said his government will set aside 1 billion shillings to buy land from absentee landlords to settle squatters on the coast. He also promised an executive order to bring port operations back to Mombasa.
"I want to promise the people of Mombasa that once elected, I will sign an executive order to return all port operations to Mombasa," said Ruto, who visited Kwale County early in the morning.
Amani National Congress leader Musalia Mudavadi said the Kwanza Alliance of Kenya administration would carry out an audit to determine the cost of all capital-intensive projects undertaken in the past 10 years.
He said no one will be spared during the audit and anyone found guilty of stealing public funds will be arrested and charged. Mudavadi said the government was in a last-minute borrowing spree to invest in big projects at an inflated cost.
"Kenya Kwanza will audit all national projects that we believe have been carried out at an inflated cost. We have to get to the root of our debts," Mudavadi said.
Earlier in Kwale, Ruto pledged 100 billion shillings to revamp the cashew and coconut industries. He said he will compulsorily acquire large tracts of land from absentee landowners to ensure the land is used to cultivate and build industries and give land to squatters.
Ruto said Kwale Deputy Governor Fatma Achani, who is seeking to succeed Governor Salim Mvurya on the UDA ticket, has already found an investor willing to invest in cashew and coconut processing.
"We have agreed to inject 100 billion shillings into the cashew and coconut farming and processing industry to create jobs, add value and seek out markets. ", said Ruto.
Ruto organized an economic forum with the people of Kwale to understand their needs which will be part of the manifesto.
"We need to understand what small traders and farmers need to get more income. We will sign a charter with the Kwale on the issues they deem to be priorities," Ruto said.
A farmer, Ali Mondo, said the government's decision to ban the sale of raw cashew nuts outside Kenya has limited their produce market, leading to low prices and huge post-harvest losses. "There was an ordinance banning the sale of cashew nuts outside the country, which limited the market reach, resulting in product wastage and low prices," Mondo said. He said they needed cashews to be recognized as a cash crop like tea, coffee and khat.
Ruto also said he will set aside 120 million shillings a year for fishermen in the Shimoni and Vanga regions to purchase modern fishing gear.