Ruto writes protest letter to Nation Media Group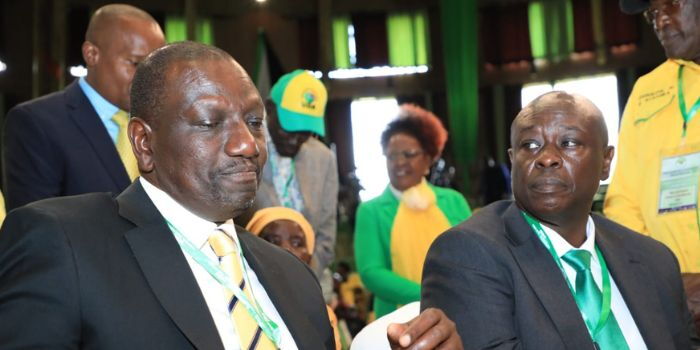 Vice President William Ruto's presidential campaign on Sunday July 3 wrote to the Nation Media Group (NMG) complaining about what it described as negative stories about its candidate,
In a letter seen by Kenyans.co.keDP presidential campaign team communications director Hussein Mohammed wrote to NMG CEO Stephen Gitagama accusing the outlet of biased framing, including in Sunday's lead story about Ruto's alleged confession to the nearly slapping President Uhuru Kenyatta.
Mohammed further accused the Nation to use history "The Day I Almost Slapped Uhuru" to negatively profile Kenya Kwanza, calling the Sunday Nation's title story was a pure misrepresentation of the facts.
DP Ruto's presidential campaign communications director, Hussein Mohammed.
Kenyans.co.ke
He further added that the article was being used to try to distract Kenyans from the recently launched manifesto.
"The Sunday Nation title and story is a continuing attempt to evade reporting on the rather revolutionary policies in the Kenya Kwanza coalition manifesto and intensify your biased framing and negative profiling of the Kenya Kwanza campaign."
"We note our displeasure with your media house's decision not only to misrepresent the facts, but to outright publish fabricated and imaginative stories whose agenda only you can explain," the letter read in part.
the old Citizen television journalist also challenged the Nationthe story of June 2 – Ruto: I will poll Uhuru after the polls. He distanced the UDA standard bearer and his Kenya Kwanza co-managers from the content of the story.
"The story is obviously a deliberate misinterpretation with the intent of creating misunderstanding and persuading or negatively biasing the reader to advance political ends.
"At no time did Kenya's presidential candidate Kwanza and UDA or coalition leaders say they would investigate President Uhuru Kenyatta after the formation of the next government," the team added. the country.
While reverting to recent findings of an analysis of coverage of presidential candidates by the Media Council of Kenya (MCK), Ruto reminded Gitagama that his station was among those listed for spreading biased coverage, aggravated by misrepresentation of facts.
He further called NMG to publicly admit that they were aligned with a political camp instead of claiming that they were impartial in their coverage of political news.
"While your media house is free to support a party, basic decency demands that you say so publicly, rather than hiding under the guise of objectivity," Hussein concluded in the missive to Gitagama.
The NTV studios in the twin towers along Kimathi Street in a photo dated October 2017.
NMG
probe