Scientists apply art to tell climate action and land use stories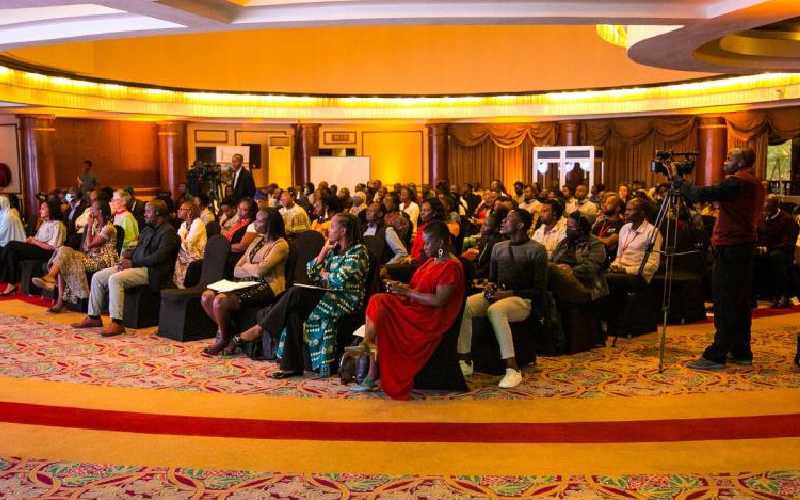 Four Kenyan researchers working to find solutions in agriculture to climate change were among the keynote speakers at an inaugural science storytelling event held in Nairobi.
The inaugural event, organized by the African Women in Agricultural Research and Development Award (Award), saw African women researchers deliver compelling personal stories to the audience about their research journeys in different fields to find solutions to the problems caused by climate change.
The presentations by the scientists, which took place against a background of song, poetry and dance, covered topics such as soil fertility management, food security and the rehabilitation of old mines into productive agricultural work. . "I am working on verifying the agricultural potential of post-mined land as a recovery measure," said Esther Mwende Muindi, a professor at Pwani University.
Dr Mwende, who holds a PhD in soil and water management, said rehabilitating these old mines can contribute to food security and improved livelihoods in areas with high mining.
Also representing Kenya at the event, Ms. Jerop Rebecca from the University of Laikipia, whose research focuses on promoting underutilized crops in promoting food security. "My work focuses on environmentally friendly innovations that promote the productivity of underutilized grain crops, particularly finger millet," she says.
Dr Jerop, also a PhD, says that since the crops are more nutritious and more resilient to poor or unpredictable agro-ecological conditions than maize, wheat or rice, improving their productivity and marketing could help food security and strengthening climate change mitigation and resilience.
Other Kenyan representatives at the event were Mr. Mibei Elias Kibiwot Nambeye from the Jomo Kenyatta University of Agriculture and Technology, Mrs. Elizabeth Wangeci Njuguna from the International Center for Genetic Engineering and Biotechnology of the Bio-pesticide Group based in South Africa.
All Kenyan researchers are fellows of One Planet, a $20 million initiative of AWARD and the Agropolis Foundation supported by the Bill & Melinda Gates Foundation (BMGF), the French BNP Paribas Foundation, the European Union and the Center International Development Research Center (IDRC) of Canada. dedicated to supporting research on adaptation to climate change.
Fellows of the storytelling event came from Kenya, Ethiopia, Ivory Coast, Nigeria, Burkina Faso, Tanzania, Malawi, Togo, Benin, Zambia, Senegal and Mali. "The stories that have been shared this afternoon are rich. I am moved and inspired. You attest to the value of building applied research skills to improve lives and livelihoods," said Kathryn Toure, Regional Director of Canada's International Development Research Centre. "I think storytelling as a means of communication is important. This sharing of personal stories can be truly transformative.
The works presented during the storytelling event addressed different aspects of agricultural research such as climate change and agriculture, post-harvest management, nutrition and food systems in sub-Saharan Africa, development of bean varieties resistant to diseases, alternatives to firewood, safe and sustainable means. for pest control, the application of statistical models to predict soil properties and the important role women play in agriculture.
Praise God through Mother Nature

Environmental degradation threatens human life itself and its quality of life. It risks making human life very difficult and is surely destined to increase the level of poverty.