The essential Kibaki – Le Standard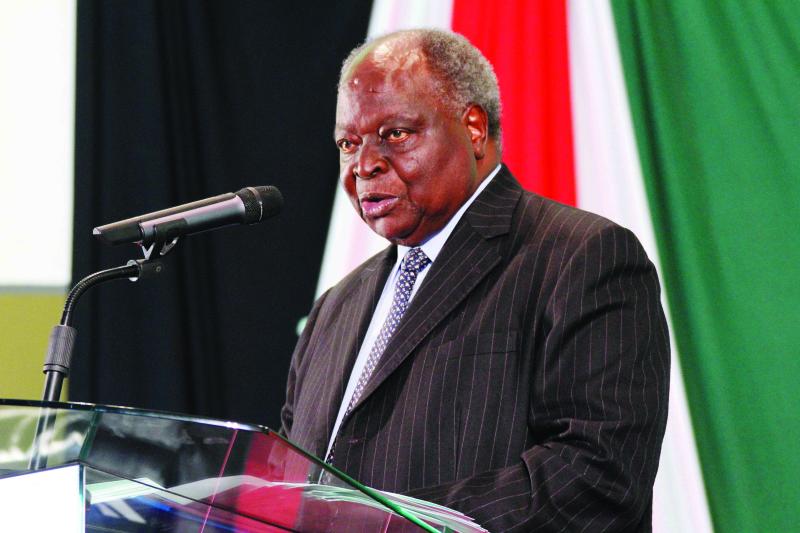 In a column last week, my friend Jaindi Kisero called Kibaki a Keynesian economist.
He referred to Kibaki's economic policies (2003-2013) as Kibakinomics and argued favorably that they worked well, generating high economic growth.
He further suggested that these policies stemmed from the command and control position of yesteryear and that in practical terms they involved a combination of borrowing and massive infrastructure investment.
I like the term Kibakinomics. One could even say that I am a student of this branch of economics. The term crops up from time to time.
I first used it in a guest column at a major daily in mid-2007, when I argued that Kibakinomics should not be confused with trickle-down economics.
I agree with most of Jaindi's conclusions but disagree with some analyses.
Did a former Kibaki, then Trade Minister and then Finance Minister, preside over a command and control regime? Yes a bit. But it was also the economic regime in most of the capitalist world.
In the 70s and 80s, prices were controlled. Mainly by the idea that small economies may not have large enough markets for competitive price discovery.
The government played an active role in creating a capitalist class and businesses.
So, we can all agree that Development Finance Institutions (DFIs) such as ICDC, Development Finance Company of Kenya, Kenya Industrial Estates, Small Enterprise Finance Company and Industrial Development Bank were part of the architecture to promote the industry in Kenya.
The Africanization program sought to create an African capitalist class, but most did not go beyond retail to become wholesalers and manufacturers. Frustrated by this slowness, the Ndegwa Commission pleaded to allow officials to do business.
One of the main reasons was that as an elite they had knowledge and salaries that could support business loans. This seemingly excellent idea had serious unintended consequences as it created conflicts of interest and compromised governance.
Many countries effectively controlled prices in the decades before the 1970s. But the oil crisis of the early 1970s led to a period of rapid inflation, despite price controls.
The policy prescriptions of the Keynesian tradition were not working, not just in small economies like Kenya, but also in larger and more advanced ones.
The result was the view that the economy needed less government. So deregulation, privatization, price liberalization and structural adjustment. These quickly became a mantra in the capitalist west, reaching our shores in the late 80s.
In the 1990s, Kibaki was in the opposition, of which he became the leader in 1998. His manifestos of 1992 and 1997 focused on revitalizing the private sector and agriculture to create jobs.
In 1997, he promised to create 500,000 new jobs based on a strategy to boost oilseed production.
The Washington Consensus emerges in the latter part of this decade. He assumed that Ricardian free trade is always best for everyone.
But the evidence shows, however, that when a manufacturing nation engages in free trade with a commodity exporter, the latter is always worse off.
Essentially, if you're a commodity exporter, you can end up specializing in poverty.
I would call Kibaki a pragmatic economist. He did not stick to the political prescriptions of any tradition.
So what are the strengths of Kibakinomics? Robust tax collection, low interest rates, major improvements in the ease of doing business, sustained investment in infrastructure, human capital, increased decentralization and liberalism.
Let's look at each briefly.
Everyone agrees that Kibaki has been very successful in collecting taxes. The question is why? Collecting taxes is partly a matter of trust, but also of widening the tax bracket.
When Kibaki took office, citizens believed that the regime would make good use of their taxes and began to pay voluntarily.
In addition, the administration has straightened out the Kenya Revenue Authority (KRA) and started to widen the range, attracting more taxpayers.
The results were quite spectacular. In 2002, total tax revenue was 185.33 billion. This figure increased to 716.8 billion in 2012 and to 811.9 billion in 2013.
How did Kibaki implement a low interest rate regime? By lowering the cash reserve ratio and restructuring debt maturities – essentially replacing more expensive short-term instruments with longer-term bonds.
As for the ease of doing business, the regime eliminated more than 450 licenses in one fell swoop around 2005. The guillotine, as it was called, required any government body that issued licenses to show its purpose.
This general easing of the business operating environment has resulted in a rapid growth in the number of new business registrations, from 18,155 per year in 2002 to 85,660 ten years later.
Much has been said about the sustained investment in infrastructure, not only to reorganize the then dilapidated network, but above all to develop it. Financing and implementation modalities were equally important. The growth in tax collection has enabled the regime to finance infrastructure spending mainly from domestic sources.
The Kibaki regime gave meaning and bite to decentralization. Previous efforts such as Moi's District Focus for Rural Development remained on paper.
Under Kibaki, decentralization was funded! When the Constituency Development Fund (CDF) was launched in 2004, the total allocation was 1.26 billion. This figure has steadily increased to reach 23 billion in 2012. This has given citizens the opportunity to solve problems at the local level.
But it is the growth of ICT, the explosion of mobile telephony, the spectacular growth of mobile money, the listing of Ken Gen and KQ that best highlight Kibaki's liberal credentials.
These efforts led to a rapid increase in real wages, from 8,726 shillings in 2002 to a peak of 33,143 shillings in 2008. Thereafter, of course, they fell to 26,340 in 2012, before slowly recovering. to 31,812 in 2019. Agriculture has the lowest wages while finance and insurance activities have the highest.
Jaindi asks the question – how come massive borrowing and infrastructure spending produced magical growth for Kibaki, but didn't it work for UhuRuto?
But the more specific question is why similar growth in aggregate GDP did not produce the same increases in real wages and real personal incomes.
The question is whether the use of leverage, a well-understood concept in finance, crowds out the private sector.
A key policy that has not received as much attention is investing in human capital. Expanded training through revamped government school, better salaries and performance contracts. This has drawn praise from, among others, the United Nations.
Finally, Kibaki will be remembered for providing both the public service and citizens with a clear vision.
What is the 2030 vision? Basically, it is a middle-income ($15,000 per person per year), democratic, industrializing country with a high quality of life by 2030. The roadmap to get there achieving this involved working on various pillars and enablers.
No nation on earth has ever become a middle-income nation without industrializing. Our choice is therefore quite simple. Industrialize or stay poor.
Looking at the August general election, this must be the central consideration in our choices.
Industrialization is a crucial step in creating high-quality, well-paying jobs. But it is also the area that requires the most courage from a leader.
Students of history know that rich nations have made every effort to industrialize, including of course the active protection of their industries.
In ancient times, nations used rather drastic measures such as the Navigation Act of 1651 to protect their industries. In modern times, such measures may not seem very democratic.
Therefore, new more urban sound measures have been applied, the main one being the application of standards.
Sometimes it seems like we do the opposite. Last year, the Kenya Bureau of Standards (KEB) threw a word at us that I had never heard before. Approval. I was amazed that this was the reason for not endorsing the tuk-tuk produced by Nyahururu, BJ50. What does it mean?
That SagakTech should prove that its tuk-tuks will meet US and UK standards. But we produce the tuk-tuks for ourselves, not for the European markets! we protested.
This week we were outraged when police in Nakuru arrested a woman for manufacturing without a license. Who issues the licenses? The citizen or the government?
To industrialize, we must have the courage to do things that make sense for our development, not to flatter other nations.
We must believe in ourselves! And on that, I agree with Jaindi. One of Kibaki's most enduring lessons; Belief in ourselves.
Farewell, father of modern Kenya!
– Muriithi is the Governor of Laikipia County.
Post a tribute in honor of your loved one on The Standard Online Tributes platform